Welcome to the 2017 Herald Sun/CityLink Run for the Kids!
Run for the Kids is a vibrant and exciting fun run, taking in your favourite sights, sounds and everything iconically Melbourne. All while benefiting the Royal Children's Hospital Good Friday Appeal. Whether you're a walker, jogger or wanting to push yourself hard, this course is for you.

On 9th April 2017, you're invited to get active, get involved and take part in Melbourne's annual Run for the Kids, to help make an impact to our most sick and vulnerable kids' lives.

While joining Run for the Kids 2017 in its twelfth year, spare a thought for the hundreds of patients at the Royal Children's Hospital that your entry will be directly assisting and enriching.

Each will benefit from your involvement in the event, as money raised will fund projects, research and technological innovations to ensure that every child receives the very best treatment now and into the future.

By doing a little bit more, you can help so much.

Spread the word and get your friends and family to help support the Royal Children's Hospital Good Friday Appeal! In just minutes you can build and personalise your very own online fundraising page.

Simply click on the "Start Fundraising" button to create your personalised fundraising page, then start by sharing the link with your friends, family and colleagues and asking them to make a donation. All donations made using your page are sent to the RCHGFA and everyone who makes a donation automatically receives a receipt.

Your supporters can also leave messages of encouragement, to help you as you take on the Run for the Kids challenge.

Your small extra effort will make a real difference to the total we can raise.

If you haven't entered the Herald Sun/CityLink Run for the Kids yet, don't forget to register early at www.runforthekids.com.au to ensure you don't miss out!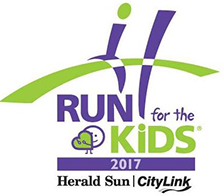 Herald Sun/CityLink Run for the Kids 2017
Raised So Far
$713,093.18
Help us raise vital funds